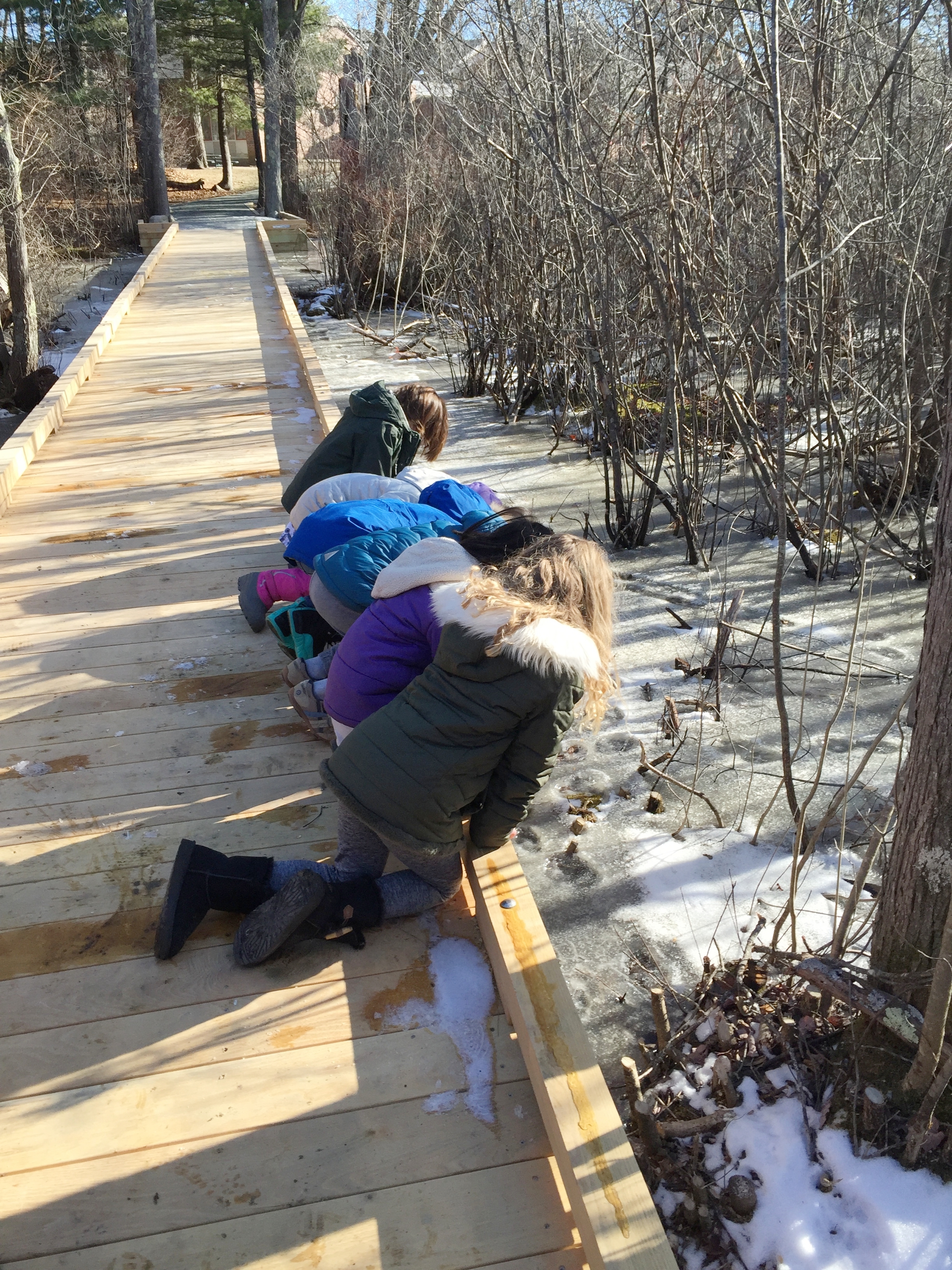 "We begin to ask questions related to what we see... will we see different things in different weather and times of day, what kind of bird is that, or do turtles live here? We can then go out on the trail or come back to the room and see if we can answer the questions."
Matt Read, 1st Grade
Smith School
The Wetlands Walkway, completed in 2017, is a path that leads from a corner of the green playground to a protected buttonbush plant. It is a place for scientific investigation and learning about conservation, and a space for students and community members to explore wetland plants and animals.
This community-wide project, led by the Town of Lincoln, the Lincoln Conservation Commission, and the LSF began in 2013, with the Exploring the Wetlands Grant, written by Terry Green, Mairead Curtis and Mary Sterling. This kick-started the walkway project by supporting the design of a boardwalk and platform that would extend from the back of Lincoln School K-4 (near the green playground) out over the wetlands, which abut the school property. The project timeline and design changed when it was discovered that the wetlands were deeper than originally calculated and that there was a large buttonbush along the path. A new solution for eco-friendly pylons was created and the design was re-drawn to loop around the protected buttonbush so the project could move forward.
Much thought went into the design and selection of materials. The boardwalk was constructed with wood from a Black Locust, a native tree that does not rot. The wood was harvested in the late fall/early winter and was milled in the Berkshires before being installed at the Lincoln School.
LSF supported a second grant, awarded in 2014, to support the design of curriculum for pre-K through eighth grade built around the observation trail. This curriculum work took place over the summer and included exploration of New England weather trends, invasive species, as well as nature-infused connections to many disciplines other than science.